"ENSURING BABIES BORN PREMATURELY, AND SICK NEWBORNS HAVE A FIGHTING CHANCE"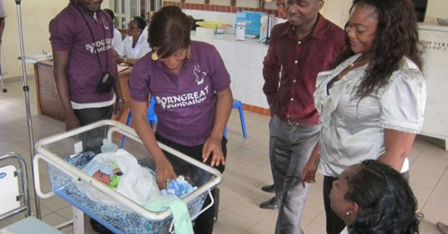 Oyen and Rosesharon looked forward to taking cute pregnancy pictures when it's getting close to the estimated date of delivery of their first child, Sike, but all that excitement and yearnings were cut short after only 24 weeks of pregnancy. It was not a fun ride. It was scary, stressful, and financially straining too.
Because of Respiratory Synctiac Virus, Sike spent all but the first 4 ½ months of her life in the NICU, the hospital's neonatal intensive care unit for critically ill or premature newborns. Sike finally made it home with feeding tubes.
Each year, 15 million babies are born prematurely, and a rising 1.1 million babies die from preterm birth complications. While, more than 60% of preterm births occur in sub-Saharan Africa and South Asia, around the world, 75% of deaths of premature babies could be prevented with feasible, cost-effective care.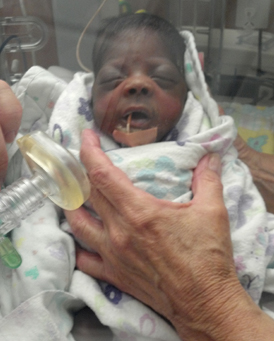 If Sike made it in America, we want all Sike's friends, every child in other parts of the world to be able to make it through prematurity to a healthy start in life.
Sike's premature birth opened our eyes to what families in poor communities could be going through, especially those who do not have access to the medical care they need just because of where they live.
Borngreat Foundation is a Texas non-for-profit, tax exempt 501(c) (3) organization who has partnered with the World Prematurity Network (March of Dimes (USA), EFCNI (Europe), Little Big Souls International Foundation (Africa), National Premmie Foundation (Australia), Canadian Premature Babies Foundation (Canada), Bliss for Babies born too soon (UK), Con Amor Venceras (Mexico), and Home for Premature Babies (China), coordinated by the March of Dimes to work collaboratively on various projects including World Prematurity Day on November 17th and will be raising awareness of the 15 million babies born too soon around the world each year.
"We are very proud to be working in partnership with members of the World Prematurity Network," said Oyen Borngt Iyamu, President, Borngreat Foundation. "This will ensure that babies and their families around the world will have a voice and that babies born too soon have the best."
Join hands with Borngreat Foundation today to make sure every baby born too early, too small, and too sick have a fighting chance to live.